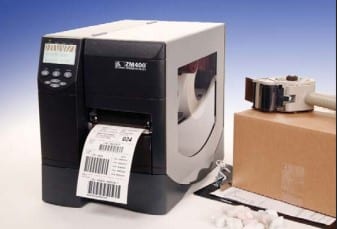 The Best in Class Just Got Better
Price-competitive, rugged Z Series® metal printers have always been the price-performance leaders in their class.
Offering 10-inches-per-second print speed, fast throughput, and rugged reliability, these industrial/commercial workhorses enhance productivity in a wide range of warehouse, manufacturing, and business applications. Now, the ZM400 and ZM600 printers offer more options to meet an even wider array of applications and needs.
[doptg id="85″]
[symple_tabgroup]
[symple_tab title="Benefits"]
Zebra® ZM400TM/ZM600TM Printers
Better Connected for a Connected WorldTM Flexing More Powers
The ZM400 and ZM600 printers bring new flexibility to the solid and popular Z Series platform to better connect with a connected world.
• Better connected to your network
• USB 2.0—For plug-and-play simplicity
• Secure 802.11b/g wireless—Advanced authentication and encryption supporting Cisco's CB21AG and Motorola's LA-4137CF radio cards
• ZebraNet® 10/100 Print Server—Fast LAN connectivity with simultaneous parallel and Ethernet operability
• Better connected to your applications
• Engineered RFID Ready for smooth transition to smart label encoding
• 600 dpi availability—High-density printing for increased print clarity
• APL-ITM/APL-DTM—Alternate Programming Language allows ZM400/ZM600 to print legacy label formats on select Datamax and Intermec printers. For additional Datamax compatibility, ZM400 has an optional ribbon spindle that supports ribbon wound ink-side in.
• XML-enabled printing option—For easy, direct-connect integration with ERP applications
• Better connected to your needs
• Large, backlit LCD—Easy to read with intuitive menu commands for quick printer configuration
• Multi-lingual capabilities—UnicodeTM-compliant printing, plus menu commands translated into 15 languages, offer a one-printer solution for worldwide distribution facilities
• Quick and easy replacement of platen and field-install able printhead—Requires no tools and only limited technical knowledge
Variety of Applications
Paired with performance-matched genuine ZebraTM supplies for optimal printing performance, the ZM400/ZM600 are perfect for many industries and applications, including: work in process, compliance labeling and warehouse management.
[/symple_tab]
[/symple_tabgroup]