Zebra Symbol LS2208 Handheld Scanner
The Symbol LS2208 handheld scanner from Motorola offers high performance scanning at a moderate price point.
It provides fast, reliable scanning in a durable, lightweight form factor, delivering enhanced productivity and efficiency while reducing your total cost of ownership (TCO). The Symbol LS2208 is easy to deploy and use, thanks to its plug-and-play installation and intuitive, user-friendly design, which requires little or no training.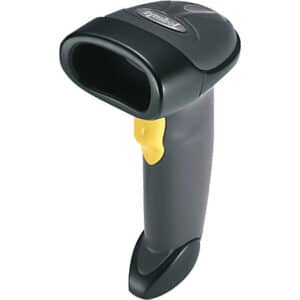 Specification
Dimensions: 6 in. H x 2.5 in. W x 3.34 in. D 15.2 cm H x 6.3 cm W x 8.4 cm
Weight: 5.15 oz./146 gm
Scanner Type: 6 in. H x 2.5 in. W x 3.34 in. D 15.2 cm H x 6.3 cm W x 8.4 cm
Light Source: 650 nm visible laser diode
Scan Rate: 100 scans per second typical
Interface Supported: RS232, Keyboard Wedge, Wand, IBM 468X/9X, USB, Synapse and Undecoded
Features
Durable construction: single board construction; meets Motorola's stringent 5 ft. drop tests; scratchresistant tempered glass exit window
High performance 1D linear scanner
Wide working range: contact to 17 in./43 cm on 100% UPC/EAN symbols
Multiple interfaces: RS232, USB, KBW (keyboard wedge), Wand, IBM 468X/9X, Synapse and Undecoded in one scanner
Plug-and-play; universal cable; intuitive scanning
Ergonomic and lightweight design
Hands-free Intellistand™
Advanced Data Formatting (ADF)
Brochure
Zebra DS2278
With the DS2200 Series, you can scan it all. You get an affordable 1D/2D imager that doesn't compromise performance or features for price. The DS2200 Series is pre-configured and ready to use right out of the box. Just plug the DS2200 Series into your POS and our auto-host detect cables will automatically identify the interface and connect the imager for you. And if you want to customise your settings, our complimentary 123Scan software tool is so intuitive than even a first time user can easily create a single programming barcode that allows you to configure devices with one scan.
Specification
Dimensions: 6.9 in. H x 2.6 in. W x 3.5 in. D 17.5 cm. H x 6.6 cm. Wx 9.0 cm. D
Weight: 7.5 oz. / 214g
Light Source: Aiming Pattern: Linear 624mm Amber LED
Imager Field of View: 32.80H x 24.80 V Nominal
Image Sensor: 640 x 480 pixels
Minimum Print Contrast: 25% minimum reflective difference
Skewl Pitch/ Roll Tolerance: +/-650,+/-650,0-3600
Features
Pre-configured ready to use
Auto-host detect cables
Easy Integration with a Tablet-based POS
Deploy Anywhere in the world
Easily Customize Settings with 123Scan
Backwards Compatible with Zebra LS2208 Cables
Instant Decoding
Unsurpassed Scanning Range
Point-and-shoot Scanning Simplicity
Patent Pending Technology
Easlest Pairing on the planet
Fast, Easy and Flexible Charging
Unique Direct Decode Indicator Improves Productivity
On-the-fly switching between handheld and hands-free scanning
Guaranteed full shift battery power
Control your scanners from a smartphone, tablet or PC.
Eliminate Bluetooth Interface
A battery designed to last
No-cost Tools to Meet Advanced Management
Brochure
Zebra Symbol DS4308SR Handheld Scanner
The DS4308 is a feature-rich next generation 2-D imager that resets the bar for scanning performance, scanning range, versatility and ease-of-use.Its small and lightweight design offers the ergonomics your workers need for all day comfort in the most scan intensive jobs. A variety of models meet a wide range of business needs — from the Point-of-Sale in a retail store to the light industrial manufacturing production line. Regardless of which model you choose, you get one powerful scanner that does the job of two.
Specification
Dimensions: 6.48 in. H x 3.86 in. L x 2.64 in. W (16.5 cm H x 9.8 cm L x 6.7 cm W)
Weight: 5.71 oz. / 162 g
Interface Supported: USB, RS232, Keyboard Wedge, RS485 (IBM 46xx) , SSI
Light Source: Aiming pattern: 617 nm LED, Illumination: 660 nm LEDs
Imager Field of View: 36*(H)x22.5°(V)
Print Contrast: 20% minimum reflective difference
Minimum Resolution: SR: Code 39 4 mil, UPC 60% 7.8 mil, PDF417 5 mil, Datamatrix 7.5 mil, HD: Code 39 3 mil, UPC 60% 7.8 mil, PDF417 4 mil, Datamatrix 5 mil
Features
PRZM Intelligent Imaging technology for next generation performance
Scan any bar code on any medium
Megapixel sensor for maximum data capture flexibility
Largest "sweet spot" for can't-miss point-and-shoot scanning simplicity
Omni-directional scanning
Durable design for superior uptime
Adjustable beeper volume and frequency tone
Superior out-of-box experience
Unsurpassed aiming technology
Complimentary tools simplify and reduce the cost of everyday management
Brochure
Zebra DS3678SR
The DS3608-SR/DS3678-SR is our most rugged scanner yet, with the highest drop, tumble and sealing specification in its class. Built to handle extreme cold, heat and more, you can use the DS3678-SR anywhere — even in the freezer. Just one press of the trigger captures the right barcodes and applies the unique data format required for each one for instant transmission to your backendsystems.
Specification
Dimensions: Corded: 7.3 in. H x 3.0 in. W x 5.2 in. D, 18.5 cm H x 7.6 cm W x 13.2 cm D, Cordless: 7.3 in. H x 3.0 in. W x 5.6 in. D, 18.5 cm H x 7.6 cm W x 14.2 cm D
Weight: Corded: 10.76 oz./305 g, Cordless: 14.34 oz./407 g
Interface Host Supported: USB, RS232, Keyboard Wedge Industrial Ethernet: EtherNet/IP, Profinet, Modbus TCP & Std TCP/IP
Scans per Full Charge: 100.000+
Image Capture: Basic
Imager Field of View: Horizontal: 42°, Vertical: 28°
Image Sensor: 1,280 x 800 pixels
Minimum Print Contrast: 15 minimum reflective difference
Features
Superior scanning performance on any 1D/2D barcode, in any condition
Easy management with our complimentary industry-best tools
Extreme temperature rating
A Bluetooth model in a class of its own for superior cordless freedom
Multi-code captures and processes up to 20 barcodes simultaneously
Ultra-rugged — the most indestructible design in its class
Instantly connect to your Industrial Ethernet network
Support for the Barcode of the Future — Digimarc®
DataCapture DNA
Faster pick-list processing
Three flexible feedback modes
Brochure
Zebra DS8178SR Series
The DS8178SR rises above the conventional imagers to deliver unprecedented scanning performance on 1D and 2D barcodes, innovative productivity enhancing tools. It combines the power of an 800 MHz microprocessor, a high-resolution megapixel sensor and it instantly captures the most problematic barcodes. The DS8178SR Handheld Scanner supports Digimarc digital watermark technology, which enables a barcode to be printed repeadly over all surfaces of a product like wallpaper.
Specification
Dimensions: 6.6 in. H x 2.6in. W x 4.2 in. D, 16.8 cm. H x 6.6 cm. Wx 10.7 cm. D
Weight: Corded DS8178: 8.3 oz/253.3g
Light Source: Aiming pattern: Circular 617nm Amber LED
Imager Field of View: 48ㆍH x 37: V Nominal
Image Sensor: 1,280 x 960 pixels
Minimum Print Contrast: 16% minimum reflective difference
Skew/ Pitch Roll tolerance: +/-60,+/-60, 0-3600
Features
Unparalled Perfomance on virtually every barcode in any condition
Superior Scan Range
Scan virtually any barcode on any medium
Superior ergonomics
Power to Scan Continuously for 24 hours
PRZM Intelligent Imaging
Support for the Barcode of the future – Digimarc
Capture Multiple Barcode with One Press of the Scan Trigger
Exclusive Battery Change
Eliminate bluetooth interference with Zebra's proprietary Wi-Fi friendly mode
Instantly Capture Full Page Documents
Capture Drivers License Data
Direct Decode indicator improves productivity
Vision Visibility into Scanning and battery performance metrics
Control your scanners from a smartphone, Tablet or PC
Easily Manage All of your scanners with powerful complimentary tools.
Easy Application Development
Brochure
Zebra LI4278
The LI4278 takes 1-D bar code scanning to the next level, allowing workers to scan faster and further.Workers can capture virtually any 1-D bar code — including the typical bar codes that are printed on paper labels; electronic bar codes displayed on the screen of a mobile phone, tablet or computer that allows retailers to easily process loyalty cards, mobile coupons and more.
Specification
Dimensions: 3.84 in. H x 2.75 in. Wx 7.34 in. L, 9.8 cm H x 7 cm W x 18.6 cm L
Weight: 7.9oz./224 grams
Cradle Interface: RS232, RS485 (IBM), USB, Keyboard Wedge
Memory: 256 MB RAM / 1GB Flash
Operating System: Microsoft@ Windows Embedded Handheld Tm 6.5.3 Professional Edition
Light Source: LED Class 1 device 617nm (amber)
Scan Pattern: Single bright aiming line
Scan Angle: Horizontal 35°
Scan Speed: 547 scans per second
Features
Excellent 1-D scanning performance
Captures virtually all 1-D bar codes on any surface — including mobile phone displays
Wide working range
Superior motion and angular tolerance
Patent pending single circuit board construction
Bright crisp aiming line
Built-in rechargeable replaceable battery
Long life industrial charging contacts
Compatible with 123Scan2 and Remote Scanner Management (RSM)
Brochure
Zebra DS9208
The DS9208 provides all the features you need to keep your workers productive: industry-leading scanning speed; true point-and-shoot scanning simplicity. With the DS9208, you are ready to complete the mobile bar code transaction chain, able to scan virtually any mobile bar code on any type of display. The DS9208 sports a new sleek contemporary design that is at home in either environment. It can fit in the most space constrained areas — from the POS in a boutique to the ticket window at a train station.
Specification
Dimensions: 5.512 in. H x 3.232 in. Wx 3.150 in. D, 14.0 cm H x 8.21 cm W x 8.0 cm D
Weight: 9.5 oz./269 g
Light Source: Aiming pattern: single dot, 625nm LED, Illumination: 630nm LEDs
Imager Field of View: 46°Horizontal x 29.5° Vertical
Print Contrast: 25% minimum reflective difference
Swipe Speed (Vertical Read Rate): Up to 90 in./2.3 m per second
Interfaces Supported: USB, RS-232, RS-485 (IBM 46xx Protocols), Keyboard Wedge
Minimum Resolution: Code 39 – 4 mil, UPC – 7.8 mil (60%), PDF417 – 5 mil, Datamatrix – 7.5 mil, QR Code – 7.5 mil
Features
Scans 1D, 2D and PDF417 bar codes on paper, mobile phones and computer displays
New small footprint
New sleek design
Handheld and hands-free modes
Picklist mode
Driver's license parsing (optional)
Multi-code mode
Industry-first spherical exit window
Dual LEDs plus programmable beeper volume, frequency and duration
Brochure