Datalogic Heron™ HD3100
The Heron™ HD3100 linear imager brings unmatched elegance along with the latest advanced technology to the modern point-of-sale. The stylish silhouette of the new imager enriched with multiple color changing lights, innovative and modern design material. The Heron HD3100 imager differs from the usual color scheme of handheld devices by providing a stunning 'black' or 'white' color option. It provides outstanding 1D reading performance and includes the patented 'Green Spot' technology for good-read feedback that can be used as an 'aiming tool'.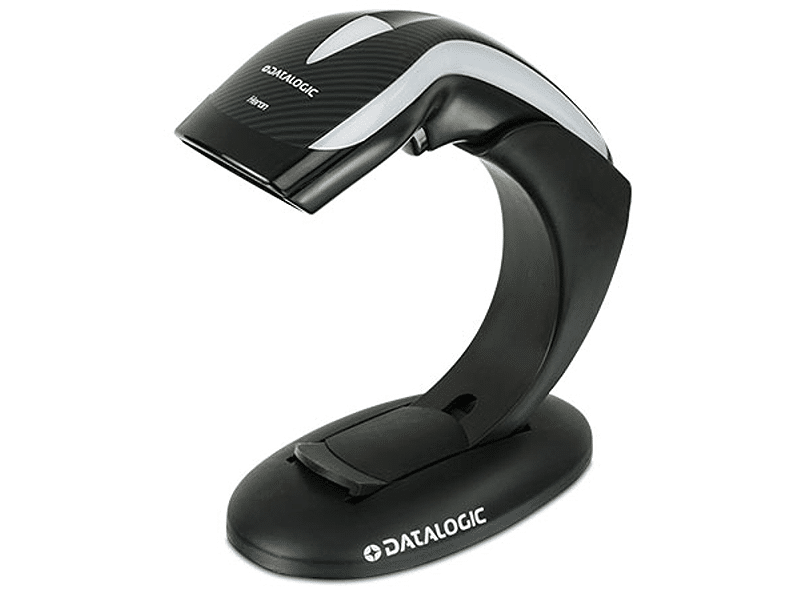 Specification
Resolution: 0.100 mm / 4 mils
Imager Sensor: CCD Solid-State (2500 pixels)
Reading Rate: 270 reads/sec
Interfaces: INTERFACES RS-232 / USB / Keyboard Wedge Multi-Interface
Depth of field: Minimum distance determined by symbol length and scan angle. Printing resolution, contrast, and ambient light dependent. 5 mils: 5.0 to 15.0 cm / 2.0 to 6.0 in, 10 mils: 2.0 to 35.0 cm / 0.8 to 13.8 in, 13 mils: 2.0 to 40.0 cm / 0.8 to 15.7 in, 20 mils: 2.0 to 60.0 cm / 0.8 to 23.6 in
Weight: 150.0 g / 5.3 oz
Dimensions: 15.2 x 15.3 x 6.8 cm / 6.0 x 6.0 x 2.7 in
Features
Innovative and unique design raises the bar for cutting-edge POS checkout experience
In-mold decorated top cover – Choice of Carbon-Fiber or Silver designs
Multiple changing color LEDs on sides and top
Polyphonic speaker for a wide variety of choices for audio feedback
Easily customized with logo, top cover, and visual/audio feedback
Datalogic patented 'Green Spot' technology for aiming and good-read feedback
Automatic switching between handheld and hands-free operation
EASEOFCARE Service Plans offer a wide range of service options to protect your investment, ensuring maximum productivity and ROI
Brochure
Datalogic QuickScan QM2400 2D Imager
The QuickScan™ QM2400 2D imager is the ideal cordless solution for multiple general purpose data collection applications such as POS Checkout, Inventory, Price Checking and Shelf Replenishment. It is also excellent for Access Control applications in exhibitions, trades shows and other similar indoor events. Featuring Datalogic's STAR Cordless System™ 2.0, the QuickScan QM2400 2D provides a simple point-to-point connection with secure radio communications with no risk of interference with Wi-Fi infrastructures and very low sensitivity to obstacles. The QuickScan QM2400 imager features a new illumination and aiming system developed with the unique intent to reduce visual stress of the operator during daily scanning activities. It consists of a soft, dark red illumination combined with two blue LED triangles pointing at the targeted bar code.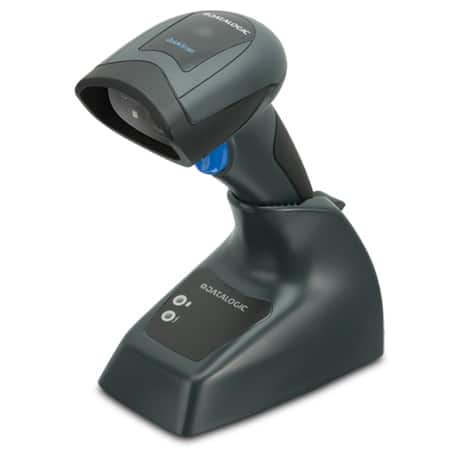 Specification
Color: White or Black
Dimensions: Height 6.4"/163 mm, Length 3.6"/91 mm, Width 1.6"/41 mm
Weight (without cable): Approximately 200 g (reader), 230 g (base charger)
Battery Type: Li-Ion battery pack
Operating autonomy (continuous reading): 30,000 reads (typical)
Light Source: LEDs
Features
Datalogic's STAR2.0 Cordless System™ with up to 25.0 m / 82.0 ft range
Secure radio communications, interference-free with low sensitivity to obstacles
Easy, tool-free, user-replaceable, long-lasting lithium-ion battery
Alternative battery recharging through USB / microUSB cable
New battery package allows simultaneous charging contacts change at battery replacement
Reduced visual stress with LED-based aiming system
Datalogic's patented 'Green Spot' technology for good-read feedback
Batch Mode capability: +500 linear codes stored in memory
EASEOFCARE Service Plans offer a wide range of service options to protect your investment, ensuring maximum productivity and ROI
Brochure
Datalogic Gryphon ™ GD4500
The Gryphon 4500 series stands out with an elegant and trendy design, user friendly ergonomics and features the most advanced megapixel sensor with warm-white-illumination 2D technology for outstanding performance. Datalogic's Motionix™ motion-sensing technology enables the scanner to intuitively switch into 'hand held' mode when the device is picked up. The wireless models feature Bluetooth wireless technology (GBT model) or narrow band radio communications with Datalogic's STAR Cordless System (GM model).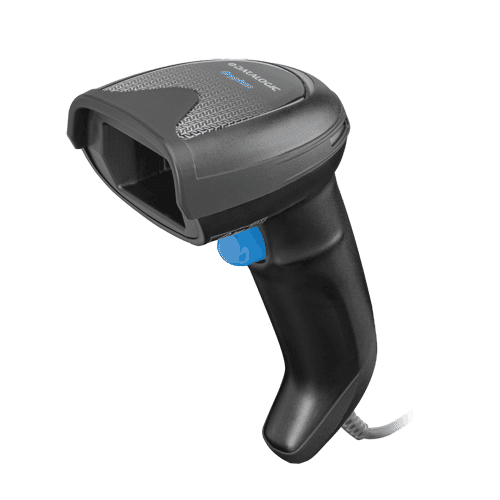 Specification
1D/ Linear Codes: Autodiscriminates all standard 1D codes including GS1 DataBarTM linear codes.
2D Codes: Aztec Code; China Han Xin Code; Data Matrix; MaxiCode; Micro QR Code; QR Code; Dot code
Postal Codes: Australian Post; British Post; China Post; IMB; Japanese Post; KIX Post; Planet Code; Postnet; Royal Mail Code (RM4SCC)
Dimensions: 16.6 x 6.8 x 10.9 cm / 6.5 x 2.7 x 4.3 in
Weight: 161.0g/5.7oz
Image capture: Graphic Formats: BMP, JPEG, TIFF; Greyscale: 256, 16,2
Image Sensor: 1 Megapixel: 1280 x 800 pixels
Light Source: Aiming: Red Laser 650 nm, Illumination: Warm White; Hyper Red LED for Digimarc
Motion Tolerance: 35 IPS
Features
1 MP optics for superior scanning and Depth Of Field
Datalogic distinctive technology
Datalogic's patented 'Green Spot' technology and exclusive 3GL™ (3 Green Lights)
Motionix™ motion-sensing technology for seamless reading mode transitions
Omnidirectional reading
Advanced motion tolerance optics
Image capture and document scanning capabilities
Reads 1D, 2D, postal codes, stacked and composite bar codes and dot codes
Digital Watermarking and DPM reading on specific models/applications
Multi-interface options: USB-only or multi-interface RS-232 / USB / Keyboard Wedge
EASEOFCARE Service Plans
Brochure
Datalogic GBT4102 Cordless Barcode Scanner
Extremely versatile and durable, the Gryphon 4102 cordless linear imaging readers are the ultimate solution for applications in retail and light industrial environments where mobility is necessary for improved productivity. Mobile communications also eliminate the restraints caused by cabled devices, providing a safer and more efficient environment for employees. Narrow band radio communications with Datalogic's STAR Cordless System™ or Bluetooth® wireless technology are the keys to increased productivity and flexibility in the workplace.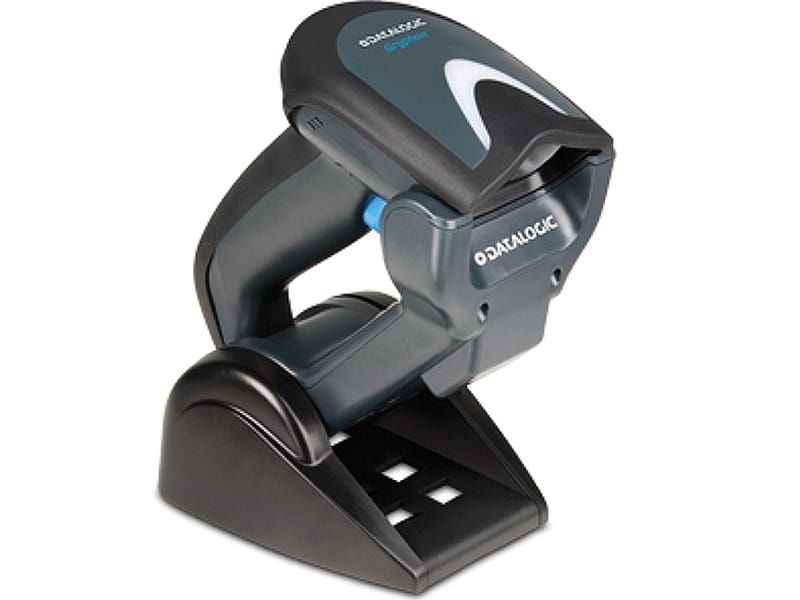 Specification
Datalogic STAR Cordless System: Effective Radiated Power: 433.92 MHz: <10 mW; 910 MHz: <1 mW Multi-Point Configuration: Max. Readers per Radio Receiver: 16; Point-to-Point Configuration Radio Frequency: 433.92 MHz; 910 MHz Radio Range (Open Air): 30.0 m / 98.4 ft Two Way Communications
Bluetooth Wireless Technology:  Protocol: Bluetooth 3.0 Certified Class 2 Radio Frequency: 2.4 GHz Radio Range (Open Air): 30.0 m / 98.4 ft
1D / Linear Codes: Autodiscriminates all standard 1D codes including GS1 DataBar™ linear codes.
Dimensions: Cradle: 18.6 x 9.9 x 5.6 cm / 7.25 x 3.9 x 2.2 in, Reader: 18.1 x 7.1 x 10.0 cm / 7.1 x 2.8 x 3.9 in
Weight Cradle: 275 g / 9.2 oz; Reader: 246 g / 8.7 oz
Light Source: Illumination: LED Array 630 – 670 nm
Print Contrast Ratio: (Minimum) 15%
Read Rate (Maximum): 325 reads/sec
Features
Fast speed-to-read: 325 reads/second
Choice of Bluetooth wireless technology or Datalogic STAR Cordless System (radio frequencies available in 433 MHz or 910 MHz)
Radio Range (open air) up to 30.0 m / 98.4 ft
Point-to-point and multi-point transmission
Two-position cradle with Scan-While-Charging capability
Batch Mode capability (>1200 codes stored in memory)
Datalogic's patented 'Green Spot' technology for good-read feedback
Long lasting user-replaceable Lithium-Ion battery
Drop resistance to 1.8 m / 5.9 ft
EASEOFCARE Service Plans offer a wide range of service options to protect your investment, ensuring maximum productivity and ROI
Brochure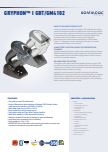 Datalogic PowerScan™ PM9500 Series
The PowerScan PM9500 area imager is a ruggedized cordless reader suitable for all demanding applications. It have long lasting battery life guarantees more than one shift of intensive scanning. The handle shape, well-balanced weight and an intuitive aiming system allow high first-pass reading rates. The PowerScan 9500 area imagers use a soft-pulsed white illumination light that is very gentle on the eyes and less troublesome to the operator during scan-intensive applications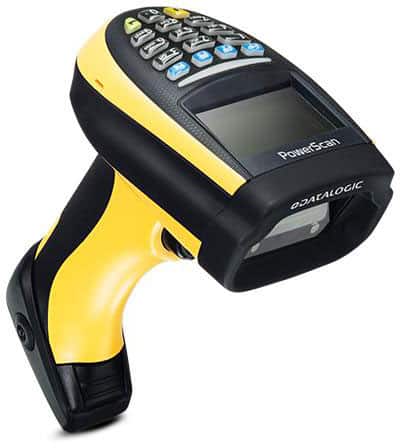 Specification
Resolution: PM9500: 1D Codes: 4 mil; 2D Codes: 7.5 mil, PM9500-HP: 1D Codes: 2.5 mil; 2D Codes: 4 mil
1D / Linear codes: Autodiscriminates all standard 1D codes including GS1 DataBartm linear codes.
Imager Sensor: PM9500: 864 x 544; PM9500-HP: 1280 x 1024
Reading Angle: Pitch: +/-40*;Roll (Tilt): 360*;Skew (Yaw): +1-40*
Interfaces: Keyboard Wedge; RS-232; RS-485; USB: OEM USB; USB COM; USB HID Keyboard; Optional Ethernet (Standard, Industrial)
Depth of field: Minimum distance determined by symbol length and scan angle; Printing resolution, contrast, and ambient light dependent.
Weight: PM9500: 380.0g / 13.4 oz, PM9500-D: 400.0 g / 14.1 oz, PM9500-DK: 414.0 g / 14.6 oz
Dimensions: Cradle: 24.0 x 10.8 x 9.5 cm / 9.4 x 4.3 x 3.8 in, PM9500: 21.2 x 11.0 x 7.4 cm / 8.3 x 4.3 x 2.9 in
Features
High-performance Liquid Lens allows one model to read standard, wide and high density codes
Snappy omnidirectional reading
Intuitive aiming system
Soft white light illumination
Available with optional display and 4 or 16-key keyboards
High speed 433 MHz and 910 MHz radio communications
Point-to-point and multi-point transmission
Networking and seamless roaming
Multiple interfaces available
Ethernet Connectivity (Standard and Industrial)
Lithium-Ion battery replaces in 3 seconds!
Datalogic's Motionix™ motion-sensing technology
Ergonomic shape
Datalogic's 3GL™ (3 Green Lights) technology and loud beeper for good-read feedback
Water and Particulate Sealing Rating: IP65
In-field replaceable window and cradle contacts
EASEOFCARE Service Plans offer a wide range of service options to protect your investment, ensuring maximum productivity and ROI
Brochure